This month, Brian Elias is the featured composer with his highly acclaimed Oboe Quintet and Electra Mourns. The latter won a British Composer Award in 2013 and Elias' Oboe Quintet is a true gem of the Oboe repertoire.
Oboe Quintet (2016)
Instrumentation: Oboe & String Quartet
Duration: 19 mins
Premiere: Commissioned by Wigmore Hall with the support of André Hoffmann, president of Fondation Hoffmann, a Swiss grant-making foundation. Premiered by Nicholas Daniel and the Britten Sinfonia at Wigmore Hall on 19th April 2017.
"In this quintet, the oboe predominates and leads the musical development to a large extent, although the strings play more than just a supporting role. The main ideas for the work (both melodic and harmonic) are stated in the first few bars and the rest of the piece develops organically from this material. Motifs, melodies and harmonies are 'recollected' throughout, often in new contexts, to provide a sense of unity.
There are five movements played without a break (fast, slow, fast, slow, fast), the last being an extended coda. The first movement is moderately fast and is in a concertante style. It is followed by a slow and lyrical movement, and then a scherzo. The fourth movement is also slow, and the final section – the coda – returns to the music of the scherzo, gradually slowing down to a quiet and reflective conclusion."
© Brian Elias 2016
A Britten Sinfonia podcast featuring a pre-concert talk by Brian Elias can be found below:
Britten Sinfonia · Pre-concert talk with Brian Elias
A review of the premiere can be found here: https://seenandheard-international.com/2017/04/nicholas-daniel-and-the-britten-sinfonia-unveil-brian-elias-oboe-quintet/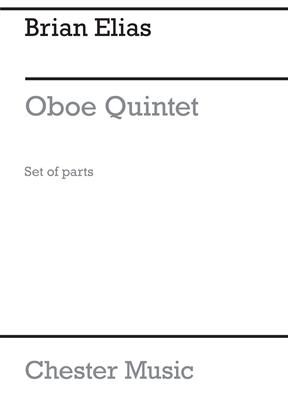 Electra Mourns (2012)
Instrumentation: Mezzo Soprano, Cor Anglais & String Orchestra
Duration: 18 mins
Premiere: Commissioned by Britten Sinfonia and premiered by Nicholas Daniel and the Britten Sinfonia on 11th August 2012 as part of BBC Proms series at Cadogan Hall
The context of the speech I have set from 'Electra', a 5th Century BC play by the great dramatist Sophocles is:
A messenger gives Electra and her mother, Clytemnestra, a fabricated account of her brother, Orestes' heroic death in a chariot race and his funeral. (He had been sent away as a young child by Electra to protect his life after the murder of their father Agamemnon by her mother and her then lover, later husband, Aegisthus.)
But Orestes is not dead; he returns to his home in disguise with his friend Pylades, wanting to test Electra's loyalty to him. He gives her an urn which he says contains her brother's ashes. Electra mourns before Orestes while cradling the urn.
Sophocles concentrates on Electra's character and her motives. He portrays her as someone relentless and insatiable in her grief and in her desire for revenge for the murder of her father by her mother. Sophocles makes us question Electra's morality and her sense of judgement; she is driven to near madness by her obsessive grieving and wish for revenge.
What sort of daughter would want to murder her mother and stepfather so savagely? What sort of sister would seek to propel her brother into this blood-libel? What sort of person seeks this as her only means of catharsis? Sophocles reminds us that despite the violence of her anger, Electra can still feel love and tenderness towards her brother but that such love may only be alive because she sees him as her sole hope of help in her quest for vengeance.
The work, a scena set in the original ancient Greek, was completed in January 2011. It is scored for Mezzo Soprano, solo Cor Anglais and String Orchestra, and lasts approximately 17 minutes. I am immensely grateful to Francesca Spiegel for her invaluable help with the language and its meaning.
© Brian Elias 2016
Winner of the British Composer Award 2013 Vocal Category. The judges' citation:
This is a truly marvellous work: mesmerising and breathtaking. From the opening notes, it sustains a terrific level of intensity and gets inside one of the great dramas of Western culture. Both vocal and instrumental writing is full of skill, artistry, maturity and creative wisdom. The pairing of voice and cor anglais has an exquisite beauty.
About Brian Elias
Bombay was Brian Elias's first home; he lived there until he was sent to school in England at the age of thirteen. By then he had already composed a fair amount – or rather improvised, as it was not until the need arose to make parts for school performances that Elias began properly writing his ideas down. He still has fond memories of a youthful Flute Sonata and a music-theatre piece based on MR James' ghost story Lost Hearts. In 1966 he entered the Royal College of Music, officially studying composition under Humphrey Searle and Bernard Stevens, though it was the experience of 'moonlighting' with the composer Elisabeth Lutyens he found most stimulating. Under Lutyens's influence, Elias produced a Webern-like cantata La Chevelure, which made a promisingly positive impression at its first hearing in 1968. After leaving the RCM, Elias spent a few years in New York where he studied briefly at the Juilliard School, New York.
On his return to England he produced a modest number of small-scale works, culminating in the unaccompanied choral Proverbs of Hell, based on William Blake. This and a revival of La Chevelure gave Elias the confidence to tackle larger-scale structures. The first significant product was Somnia ('Dreams', 1979) for tenor and orchestra, based on words by the hedonistic Roman writer Petronius, followed in 1982 by the song cycle At the Edge of Time. Then in L'Eylah (1983), he at last felt free to write a large, abstract orchestral work. L'Eylah was greeted with enthusiasm by audience and critics at its BBC Proms premiere in 1984. By now the broad features of Elias's mature style were fully in focus. A fastidious and imaginative craftsman, he was also beginning to show the impassioned urgency and capacity for sustained compelling invention that remain evident in his work to this day.
Geranos for chamber ensemble (1985) confirmed his growing confidence and mastery, as did Variations for solo piano of 1987 (composed in homage to Beethoven's 32 Variations in C minor) and the vividly atmospheric Pythikos Nomos ('The Law of the Python', 1987-8) for alto saxophone and piano. But even these were surpassed by Elias's next major work, an orchestral song cycle Five Songs to Poems by Irina Ratushinskaya (1989), commissioned by the BBC. The dark intensity and lyrical eloquence of Elias's settings fully matched the power of the Soviet dissident Ratushinskaya's poetry. It is an extraordinary demonstration of creative empathy from a composer brought up under very different political conditions, at the same time showing Elias's exceptional skill in finding and responding to the musical qualities of the Russian language. Five Songs to Poems by Irina Ratushinskaya was such a success at its London premiere that it was toured by the BBC Symphony Orchestra and repeated at the 1991 BBC Proms. Then in 1992 came one of Elias' greatest successes, The Judas Tree, a riveting forty-minute score written for the Royal Ballet and choreographed by Sir Kenneth MacMillan, with designs by Jock MacFadyen. The Judas Tree has remained securely in the Royal Ballet's repertory, and it has been taken on tour to France, Germany, Russia and the USA. Although written to be danced, The Judas Tree is scarcely less impressive performed purely as an orchestral work. Not only is the material strong and vibrant, the score is proof of Elias's capacity to sustain a gripping musical narrative over a long time scale.
For all his achievement as a composer of large-scale works, Elias has not forgotten his early liking for music of a more intimate scale and manner. Two of his most recent successes include Three Songs(2003) on poems by Christina Rossetti for alto voice and harp, and a piece for solo clarinet, Birds Practise Songs in Dreams (2004).
Elias has never been a prolific composer, and all his work – from ambitious orchestral scores to the tiniest instrumental pieces – is executed with meticulous care. Yet the result is music that never sounds merely 'careful'. The House That Jack Built is bold, dazzlingly inventive and full of dancing energy. Elias's basing of much of the material for The House That Jack Built (2001) on perhaps the simplest and most memorable of all playground chants also means that one doesn't need a degree in musicology to follow its many ingenious developments – the process is clear for anyone who has ears to hear. In 2004 Elias was commissioned by the Cheltenham Festival to write A Talisman, which was performed by the National Youth Orchestra Sinfonietta and Paul Putnins, and scored for bass-baritone and small orchestra. It is based upon Hebrew text inscribed on a silver 19th century amulet which was given to Elias by his late mother.
Elias is the recipient of two British Composer Awards; the first in 2010 for the orchestral work Doubles, which was commissioned by the BBC Symphony Orchestra, and the second in 2013 for Electra Mourns. This piece, a setting of Sophocles in ancient Greek, was written for Susan Bickley (mezzo soprano) and Nicholas Daniel (cor anglais) and first performed with the Britten Sinfonia at the BBC Proms in 2012. Elias' String Quartet, composed in 2012 for the Jerusalem String Quartet, was premiered at Wake Forest University in North Carolina in 2013. The piece was performed and broadcast by the EBU at the Zeist Festival in Holland in 2014 and received its London premiere at the Wigmore Hall in 2015.
In spring 2017 a recording of Geranos, Electra Mourns and Elias' vocal music was released on the NMC label. The release coincided with the premiere of his Oboe Quintet by Nicholas Daniel and members of Britten Sinfonia. Leonard Elschenbroich and the BBC National Orchestra of Wales gave the premiere of his Cello Concerto at the 2017 BBC Proms. The following autumn The Royal Ballet staged a revival of The Judas Tree as part of its Kenneth MacMillan anniversary celebrations.
© Stephen Johnson – updated by Brian Elias
Composer website: brianelias.co.uk