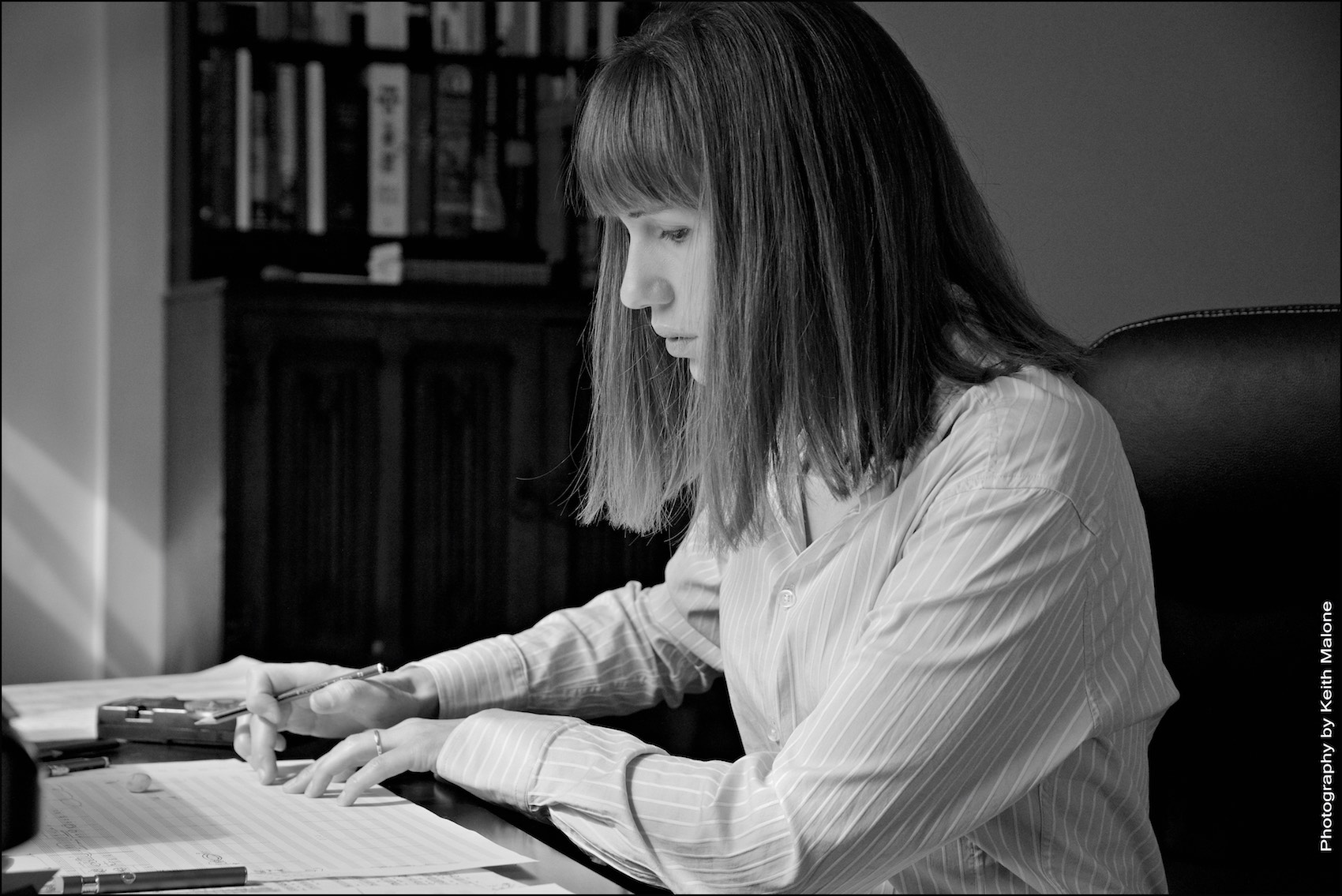 Emma-Ruth Richards is the featured composer this month and has written a remarkable work for solo oboe in celebration of Nicholas Daniel's 50th Birthday in 2012.
de Stâmparare
Instrumentation: Solo Oboe
Duration: 4′
First Performance: Premiered by Nicholas Daniel in 2012 in celebration of his 50th Birthday
de Stâmpare translates into English as 'soul cry' and is piece is based on a Romanian folk song called Hora Spoitorilor; the theme can be heard in full right at the end of the piece.
In writing this piece I was particularly interested in how I could use a single line to create space through its gestural activity and in doing so give the impression of straining, stretching out towards something. The sustained notes develop out of gestural activity and in the higher register of the oboe have a quasi-vocal, strained sonority similar to an expressive, high note sustained by a soprano voice or trumpet in the clarino register. When listening to these sustained tones on the oboe they really do seem to have more of a presence than just the pitch being played. In order to emphasise this I sometimes combined the single tone with a pitch-bend to enhance the emotional effect of this 'imperfect', human quality: a cry from the soul.
© Emma-Ruth Richards
Caught on the Corner
Instrumentation: Wind Quartet
Duration: 10′
First Performance: Premiered by Atea Wind Quintet in 2013 for New Dots.
This piece for wind quartet is a purely musical response to an extract of text by writer, director and performance artist Nic Chalmers. The piece is in three movements – (i) Blade-drawn Cracks, (ii) Burnt, (iii) Caught on the Corner.
Did an English house ever contain such waking dread?
Be you quiet, bones, be you still
Find your sound, voice, may you kill
Those murmurs manly-made
Their throats a' howling night calls
Shadow breath, as rough as bark
From daylight-stealing he-wolves.
Did an English house ever struggle so with stifled breath?
Doors left ajar like open wounds
Blade-drawn cracks where bodies scraped
And skins were scored
And cries poured forth
There is metal in this place, I can taste it.
Can you taste it, House; can you taste it too?
Dancing knives on trembling skin
Rustle of a language little known.
Did an English house ever shudder so with creeping hands?
The roads were rough and darkling
Every night passed out of sight
The land in which he made our tracks
Did swallow every sign of every fight
Spit me out of England, House
I'd suffer any hurt
To bathe in my old apple orchard
To rid myself of dirt.
(NC© 2012)
© Emma-Ruth Richards
About Emma-Ruth Richards
Emma-Ruth Richards is a composer much in demand in the UK and overseas, acclaimed for her understanding of both instrumental and vocal writing, earning her a role as a favourite amongst performing musicians and singers. 2017 will see the premieres of new commissions from the London Sinfonietta, the MiN Ensemblet, Norway, a new work for chamber orchestra for the Britten Sinfonia to be premiered at the Barbican Centre, and Two Worlds CD release of 'You Cannot Fold a Flood'. Also in 2017 will be a showcase of her new opera 'Traffick', written with librettist Nic Chalmers; 'Traffick' is commissioned and developed with the Nordland Teater, Norway and the Royal Opera House, London, and the Mahogany Opera Group's Various Stages Festival. 2018 will see a new CD release with Parma Recordings and the New York premiere of 'Dark Radiance' at Carnegie Hall. Also in 2018 will be the premiere of a new cello duet for Classical Brit Award winner Guy Johnston and the 2016 BBC Young Musician of the Year Sheku Kanneh-Mason and American premieres of 'Hora de la Cerc' with Camerata Pacifica, California.
Previously, she has been commissioned by Opera North, London Philharmonia, BBCNOW Chamber Players, Håkan Hardenberger, Colin Currie, Nicholas Daniel, Mark Van de Wiel, Paul Silverthorne, Dudok Kwartet, Camerata Pacifica, and The Absolution Saxophone Quartet amongst others. Emma-Ruth's music has been performed on the international stage, taking her to Hong Kong, Den Haag, Banff, New York, Pennsylvania and Florida. She is a Royal Northern Gold Medal composer and has featured in festivals including Aldeburgh, Music of Today, Sounds New Canterbury, Internationaal Kamermuziekfestival Den Haag, Huddersfield Contemporary Music Festival, Sound Scotland, Queen's Belfast, North West, and the St. Magnus Festival.
Emma-Ruth studied at Cardiff University and then at the Royal Northern College of Music, and has since studied with composers such as Sir Peter Maxwell Davies, Oliver Knussen, and Alexander Goehr and Colin Matthews.