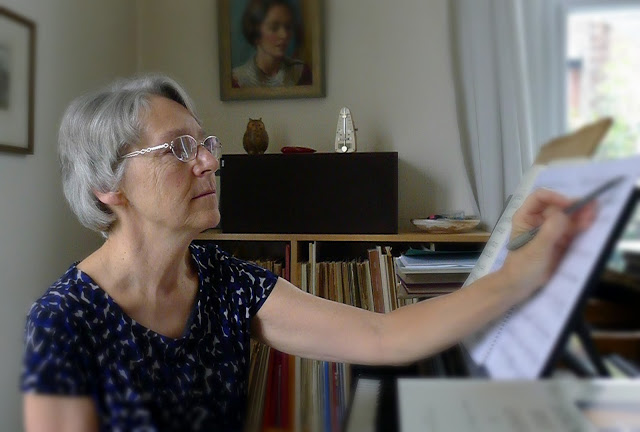 This month, Nicola LeFanu and three of her compositions are featured in the journal. Spanning nearly 40 years of her life, these are remarkable works and fantastic additions to the repertoire.
Soliloquy
Instrumentation: Solo Oboe
Duration: 5′
Premiere: 1965
Soliloquy was composed in 1965, when I was eighteen. I thought of it as a soliloquy in the dramatic sense, like a character in a play 'thinking aloud'. The music unfolds in one continuous train of thought that encompasses many moods and gestures, with plenty of internal repetitions. This 'continual variation' is always returning to the initial ideas; all the music grows out of the opening intervals. The single oboe line implies a counterpoint of thoughts, like someone questioning themselves.
I wrote Soliloquy for the oboist Francis John Hunter, who like me was a first year student at Oxford.
© Nicola LeFanu

Click here to buy recording
Variations for Oboe Quartet
Instrumentation: Oboe and String Trio
Duration: 11′
Premiere: 1968
The oboe quartet was written just after I finished my degree at Oxford. Victor Swillens, who had played my Soliloquy for solo oboe, commissioned the Variations for his Hilversum oboe quartet. It became a lucky work for me, winning the Cobbett prize at the RCM and then the 1971 BBC Composers' competition; it was subsequently taken up and recorded by Janet Craxton.
The piece is a double variation set, with nine variations in all, but they play without a break. Continuous variation is the idea at the heart of the work. Although the opening oboe theme is a twelve note row, this is not a strictly serial work; rather, exploring aspects of serial technique informed the harmony and the melodic development. The four players have independent characters; the oboe is pre-eminent, but the viola also emerges as an important voice. There is a good deal of rhythmic independence, and using independent tempi allowed the variations to elide.
© Nicola LeFanu
Click here to buy recording
Mira Clar Tenebras
Instrumentation: Mezzo-soprano with harp, viola and cor anglais doubling oboe d'amore
Duration: 22′
Premiere: 2002. Okeanos
Mira Clar Tenebras is a nocturne: a collection of songs of darkness and dawn, sleep and dream. For the sleeper there are dreams of spring and summer; there is little reassurance for the one who lies awake, trapped in thoughts. Nevertheless, every dawn is a renewal: mira clar tenebras – wonder at light out of darkness.
It is written for mezzo-soprano with harp, viola and cor anglais doubling oboe d'amore. The songs and instrumental movements follow one another without a break to make a complete piece of about 15 minutes. The texts are all European: unfamiliar languages, but familiar words, sounds and images.
Mira Clar Tenebras was written for Okeanos, who gave the première in July 2002.
© Nicola LeFanu
Click here to buy recording
About Nicola LeFanu
Nicola LeFanu has composed around one hundred works for a variety of mediums. Her music is published by Edition Peters and by Novello and has been widely played, broadcast and recorded. She has composed eight operas, which have been staged in UK, Ireland and USA.
She was born in England in 1947 to Irish parents; her mother was the composer Elizabeth Maconchy. LeFanu studied at Oxford, RCM and Harvard and is active in many aspects of the musical profession.
In April 2017 she celebrated her seventieth birthday, and was BBC Radio 3 'Composer of the Week'. 2017 also saw premieres of five new works, including 'The Crimson Bird' for soprano and orchestra. Commissioned by the RPS, it was premiered on February 17th 2017 by BBCSO with Rachel Nicholls, soprano.
In 2018 her cantata 'St Hilda of Whitby', to a text by Wendy Cope, was premiered in Oxford.
Featured photograph by Michael Salander