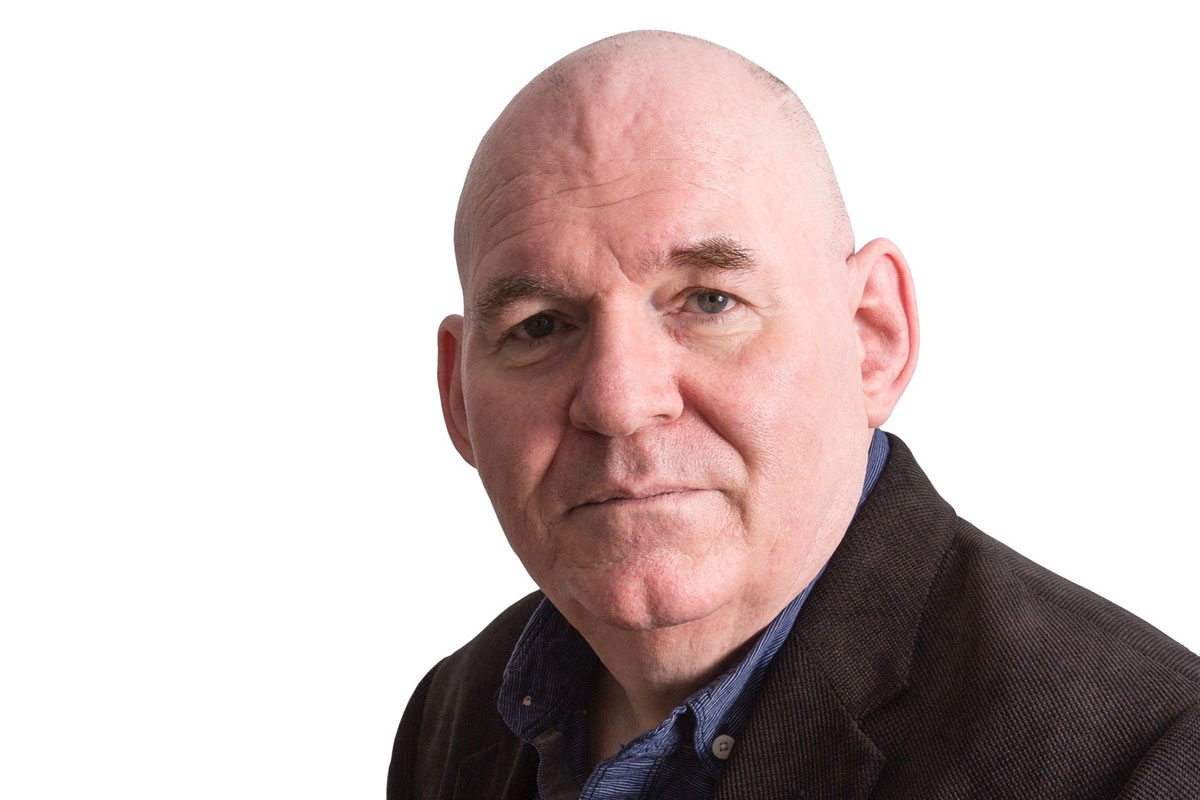 This month, Stephen McNeff is the featured composer of the Journal. With works for Oboe and Cor Anglais in his catalogue, the music featured below takes both instruments in new and interesting directions as well as exploring some of the extended techniques available.
Concerto for Oboe & Strings (2014)
Instrumentation: Oboe & string orchestra
Duration: 15 mins
Premiere: First performance at St Andrew's Church, Presteigne on 26 August 2014 with Ilid Jones, oboe solo and the Presteigne Festival Orchestra conducted by George Vass. Commissioned by the Presteigne Festival.
Published by Edition Peter EP 76218a
My Concerto for Oboe and String Orchestra was the second wind concerto I have completed in 2014. The other one was for flute and wind orchestra (premiered by the Lambeth Wind Orchestra in April and then performed by orchestras in Cheshire and Dublin. The two concertos could not be more different, however. The flute concerto is a bight airy work in a traditional three movement form and is an exchange of ideas – a conversation – between the flute and the orchestra. My oboe concerto is a much darker-grained piece in one movement lasting about fifteen minutes. The textures offered by the strings and a double reed lend themselves to perhaps more introspection and Caravaggio-like sudden contrasts of light and shade.
The Concerto is based on a simple seven note phrase similar to the one used by Bach in his Cantata Nach die, Herr, verlanger mich and Brahms in the final movement of his Fourth Symphony. Unlike Brahms, mine is not a passacaglia, but moves through a similar series of quickly changing views of the theme as if examining it for possibilities, potential and meaning. Throughout, however, there are hints of another tune woven in, and this is made clear towards the end when, after a reappearance of the first theme, the old Irish tune, Have You Been to Carrick, is heard played by a solo viola. Then lamentoso mood is adopted by the oboe – ideally suited to the decoration that such old tunes allow – and the concerto ends quietly.
© Stephen McNeff
Article from Classical Music Magazine about Concerto for Oboe & Strings
Article from Classical Music Magazine July 2014
As composer-in-residence at this year's Presteigne Festival, Stephen McNeff is looking forward to hearing a number of his previous works being performed by different performers, as well as the premiere of his new concerto for oboe and string orchestra. It is a rare opportunity for a composer, and McNeff compares talking about pieces long since done and dusted with the interviews that Hollywood stars give, promoting films so long in the can that they can barely remember the plot. The creative process for the concerto was also not unlike film-making, he says, 'where things are shot out of order and the real work happens in the editing room'.
'There is this seven-note theme, motive, cell, whatever you call it, and because I'm born in Belfast, there are influences of traditional Irish music in there as well,' says McNeff. 'I'd been writing in chunks, then putting them aside and later assembling them – because there's a degree of developing this seven-note motive – and my (then) editor at Peters, David Lewiston Sharpe, who's also a composer, told me that Elgar used to have a process rather like that, where he would stick bits up on the wall.
'I wasn't sticking things on the wall, but I was putting ideas in a notebook. Once I'd finished all the things I wanted to say, rather like getting it all out there, having left it for a while I looked at it again and put it into an order that made sense. Like if you had a speech to write, you would jot down everything you wanted to say, and then you would work on it, hone it, and put it into a logical form. That's really where your technique comes into it. You just go through it and through it again, you examine ideas and you think "Is this idea earning its keep?", "Is this doing what it wants to do?", "Is this just me being a bit indulgent, is it really worth putting that in?"'
Having been written shortly after a concerto for flute and wind orchestra, this work for oboe and string orchestra presented a contrasting opportunity. 'A flute and wind orchestra is almost literally bright and glittering. Oboe and strings makes you think in finer-grained textures. It's like a painter choosing a different medium, and the way the medium will drive the idea. In the programme note I've referred to some of the contrasts as being like Caravaggio, where you get this sharply delineated light and shadow – that's a function of the medium.' The medium is the message, as this column knows all too well. 'As soon as I start talking about my music I get the feeling that if I'd wanted to write about things I should have been a poet.'
And in following a work (i.e. the flute concerto) which might be programmed alongside John Williams' Star Wars Suite (and with the possibility of a student soloist in mind), McNeff also relished the opportunity of writing technically demanding work with confidence. 'It's always a great joy to write something where you know you can make great demands and the player will rise to the challenge,' he says. 'It's been a long time since someone has called me to say "This is unplayable". Mostly players' degree of technical ability is so good that it just becomes a given.'
From Tempo magazine (January 2015)
The piece takes a seven-note figure and, as it were, holds it to a continually changing light, exploring and examining its nature and possibilities through shifts of colour and timbre as well as melodic and harmonic invention. McNeff revels here, as elsewhere in his music, in ornamentation and filigree swerves of texture redolent of an almost baroque, Italianate sensibility, and applied with impressive economy of means. In his programme note, he described the work as 'dark-grained', and so it is – but with a quiet radiance notable in the sympathetic string writing.
The Pilgrim Rabbit Walks the Westwood
Instrumentation: Oboe & Piano
Duration: 8 mins
Premiere: Commissioned by New Paths Music as part of the New Paths Spring Festival 2019. First performance on 5th April 2019 at St Mary's church, Beverley, Yorkshire by James Turnbull (oboe) and Libby Burgess (piano)
Published by Edition Peter EP 73415
St Mary's Church is rich with sources of inspiration, but one thing that caught my imagination was the Pilgrim Rabbit. It struck me as very unusual that a creature such as a rabbit (or is it a hare?) was depicted in stone. What is he(?) doing there and is there a later connection with Alice in Wonderland's rabbit? It inspired the idea that our friend goes walkabout at night in order to take advantage of the rich pickings available on the Westwood. Cold stone to warm fur and whisker… But this is an abstract fantasy, not a narrative. It's more to with transformations and the sounds we hear after dark (especially in big old buildings); things seen from afar and not quite understood, and where we start to imagine all sorts of wonders….

© Stephen McNeff
The Man in the Wind and the West Moon
Instrumentation: Cor Anglais and Piano
Duration: 11 mins
Premiere: Originally for alto saxophone and piano. Commissioned by Michael Duke and David Howie (the HD Duo). Funded by the Elizabethan Theatre Trust. Premiere on 26th April 2018 at the University of British Columbia, Canada. UK premiere at the Royal Northern College of Music 30 April 2018. Version for cor anglais and piano made in August 2019 for James Turnbull and Libby Burgess.
Published by Edition Peter
The Man in the Wind and the West Moon was written for the Australian alto sax and piano duo of Michael Duke (saxophone) and David Howie (piano) and premiered by them in 2018 at the University of British Columbia in Canada and then on an extensive tour. I made the version for cor anglais and piano for James Turnbull and Libby Burgess in the summer of 2019. The work is in one movement lasting about 11 minutes. It is in three parts which are played without a break, but other than that it has no deliberately formal structure. The sections are broadly slow-fast-slow and explore a fantasy dialogue between the instruments. Some fragments of material recur at various points, for instance, the opening cor anglais fragment is also heard at the very end. I was interested in exploring both the lyricism, and spiky agility of the reed instrument in a way that would be immediately recognisable and tell some sort of story to the listener. The work is designed to fit into recital programmes at all levels..
© Stephen McNeff
About Stephen McNeff
Belfast born composer Stephen McNeff grew up in South Wales and studied at the Royal Academy of Music in London. His career started by working in theatres throughout Britain, followed by a period in Canada as composer-in-residence at the Banff Centre
McNeff's name became known for his film noir operatic version of The Wasteland (1994) and his many scores for the Unicorn Theatre. Also with wind orchestras for the very popular Ghosts (2001). From the première in 2004 at the Royal Opera House Linbury Theatre of his opera for young people Clockwork (based on Philip Pullman's book), and his appointment the following year to the Bournemouth Symphony Orchestra as the first Royal Philharmonic Society 'Composer in the House', his reputation grew.
Theatrical work continued with the operas Gentle Giant (2007), for the Royal Opera, and Tarka (2005-6) – which won the British Composer Award for Best Stage Work in 2007. The Chalk Legend, composed for the Bournemouth Symphony Orchestra to mark the 2012 Cultural Olympiad premiered in Dorset and London. Also in 2012 his opera, The Secret Garden (1985, revised 2012) was seen in a critically praised new production in London and at the Banff Festival in Canada..
Other works from this period include ConcertO Duo, premiered by the BBC Symphony Orchestra (2010), and Seven for a Secret (based on the music of Ravel) for Rambert Dance (2011). 2014 saw concertos for flute and oboe in London and at the Presteigne Festival in Wales where he was featured composer. In 2016 A Half Darkness for Chamber Choir Ireland was premiered in Cork, Dublin and the North of Ireland, and Eden Rock – a BBC Radio 3 commission for tenor Mark Padmore and guitarist Morgan Szymanski – was heard at London's Wigmore Hall.
His opera Banished was premiered in 2016, while in 2017 he his film opera for Welsh National Opera and Welsh TV, Hedd Wyn, completed recording. In November 2017 The Burning Boy (an opera for professionals and the community) was premiered in Cornwall by the BSO and will be seen again in July at the Three Choirs Festival.
Future plans include a new opera Beyond the Garden (with a libretto by Dublin poet, Aoife Mannix) to be premiered in 2020, and a new choral work for the BBC Singers.
Stephen McNeff is on the composition staff at Guildhall School of Music and Drama in London where he works with composers on the MA in Opera Making. He has also been a guest visiting lecturer at numerous other academic institutions including The Royal Irish Academy of Music, the Royal Northern College of Music, and the Academy of Music at the University of Ljubljana in Slovenia, the University of Cardiff and Cambridge University.
For more information, please visit: https://www.stephenmcneff.co.uk https://twitter.com/StephenMcNeff